Bounce House Rentals In Crown Point, IN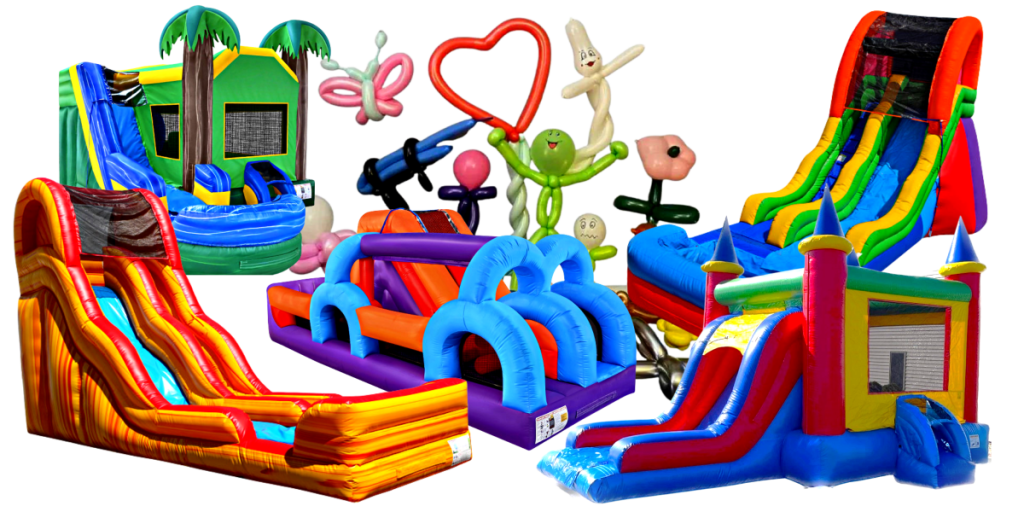 Welcome to Herdzik Party Rentals, the ultimate destination for inflatable fun! We are a premier bounce house business dedicated to bringing joy and excitement to events and celebrations across the city. With our wide range of colorful and thrilling inflatable attractions, we guarantee an unforgettable experience for kids and adults alike.
At Herdzik Party Rentals, safety is our top priority. We go above and beyond to ensure that all our bounce houses are manufactured with the highest quality materials and meet stringent safety standards. Our team of trained professionals performs regular inspections and maintenance to guarantee that our inflatables are in pristine condition for every event.
Whether you're hosting a birthday party, corporate gathering, school function, or any special occasion, our bounce houses provide hours of entertainment. From towering castles to thrilling slides and obstacle courses, our collection features a diverse selection of inflatable attractions to suit every taste and preference.
Our experienced staff is dedicated to delivering exceptional customer service from start to finish. We work closely with event organizers and individuals to understand their specific needs and tailor our services accordingly. We handle the setup, takedown, and cleaning of the bounce houses, allowing our clients to focus on enjoying their event without any hassle.
Herdzik Party Rentals is committed to creating a fun and safe environment for everyone. We strictly adhere to safety guidelines and supervise all activities to ensure a secure and enjoyable experience. Our team is knowledgeable and well-trained in maintaining a controlled and orderly environment, prioritizing the safety and well-being of all participants.
As a locally owned and operated business, we take pride in being an integral part of the community. We are passionate about contributing to the happiness and laughter of children and families. Our commitment to excellence and our dedication to creating memorable experiences have made us the go-to bounce house business in the area.
So, whether you're planning a backyard party, a community event, or a school carnival, Herdzik Party Rentals is here to provide the perfect inflatable entertainment solution. Get ready to bounce, slide, and have a blast with Herdzik Party Rentals—the ultimate destination for inflatable fun!
We are your local go-to for bounce house and water slide rentals.
We are a Family owned company located in Winfield In. We pride ourselves in providing high quality inflatables at the most competitive pricing around. With every bounce house rental we focus on providing world-class service so you can focus on having FUN.
 Each unit is cleaned and sanitized after every rental to guarantee your safety and satisfaction.  We always follow the strictest safety guidelines and we absolutely will not sacrifice your safety for business. EVER. 
When we say your satisfaction is guaranteed, we mean it. That's why we offer bounce houses with safe entrances to ensure that children can enter and exit the bounce house safely and without the risk of injury. 
In addition to safe entrances, our bounce houses are made from high-quality materials that are designed to be both durable and safe. On our water slides, there is non-slip material on the climber, top landing, and certain areas of the pool. We regularly inspect and clean our bounce houses to ensure that they are in good condition and free from any potential hazards.
It is our standard practice to use tarps under our inflatables at all times.
When you rent from us, we will work with you to schedule a convenient delivery and pick up time and ensure that the bounce house is enjoyed during the entire party time!!
Contact Us  today to learn more about our bounce house rental.
Crown Point, IN
Winfield, IN
Lakes of the Four Seasons, IN
Hebron, IN
Valparaiso, IN
Cedar Lake, IN
Lowell, IN
DeMotte, IN
Kouts, IN
Hobart, IN
Merrillville, IN
Schererville, IN
Saint John, IN
Dyer, IN
Is your event outside of our listed area?
Contact Us   as we frequently deliver to events farther out and sometimes special accommodations can be made.
Note: Extra fees may vary depending on how far you are outside our service area. 
We will deliver to your home, commercial property, church, school, or anywhere that you are setting up. At Herdzik Party Rentals we are committed to your safety and full briefings are provided before handing over equipment. All of our products are thoroughly cleaned, tested, and sterilized before delivery. Rent any of our inflatables with complete confidence, knowing that your guests will be safe and protected. We deliver, set up, and then tear down at the pick up time.
Ready for the Best Party You've Ever Had? It's time to do parties better with our Bounce House Rentals Near Me in NW Indiana. Whether you want to bring out the smiles at a private event, or even if you want to organize a community fundraiser, we can help you to present the most exciting, Interactive, and memorable parties yet. Surprise your child with a bounce house rental this year or browse inflatable party rentals for your next corporate event. Herdzik Party Rental Co is a local family-owned business that you can rely on.